Gwendoline Butler had a long and prolific career, writing 32 John Coffin novels, 19 Charmian Daniels novels under the pseudonym of Jennie Melville, as well having a successful career as a romance novelist.  I've always been aware of her and we usually have some of her series under both her names on our shelves, but recently I was searching for a new (to me) British Detective Inspector and I thought I'd give a Coffin novel a try.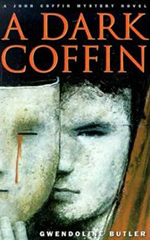 This one, published in 1995, is 26th in the series, so the characters and setting are well established.  I found that I didn't feel any need to have read any of the other books though I was a bit curious about the relationship between Coffin and his well known actress wife, Stella Pinero.  Butler is definitely of the "old school" of crime writing – i.e., she's done telling her brisk tale in a mere 250 pages – so this is a novel, like an Agatha Christie and a Ngaio Marsh, that with the right comfy chair you could finish in an evening.  Sometimes there's nothing better.
Butler is really good at setting a scene and creating a cast of characters who all fit into her narrative, which in this case is a fairly original one.  Though she draws on the Jekyll and Hyde trope, the ending was a well earned surprise.  She briskly sets the scene in Stella's theater – it's her own company with a new show opening, much riding on the outcome.  She and Coffin live "above the shop" so to speak, in a nifty tower where many steps are involved to get to the different parts of their apartment.  As quickly as Butler lays down this fascinating setting and living arrangement (something a contemporary writer like Peter Robinson or P.D. James would have lingered over), she's on to her story.
It's a captivating tale – on opening night a couple is found dead in one of the theater boxes, with no one sitting anywhere near them any the wiser.  Assisting Coffin in his investigation is Harry Trent, a reliable officer who seems to have a connection to the dead couple as well as a troubling twin brother who is always just off canvas.  This is the Jekyll and Hyde portion, with the reader not sure which is which. Stella is understandably upset as her new show has to be shut down in the service of a police investigation, not to mention the bad publicity from two corpses inside the theater.
Stella's able assistant Alfreda is often front and center in the narrative, even to giving Harry a place to stay while he's in town.  Improbably, she appears to be a woman on the prowl, despite the fact that she lives with her adult son.  With a cast of interesting characters and a well drawn city setting that isn't London, the story has some different as well as creepy elements – but never too creepy.  Butler is too brisk a storyteller to linger.  She's first and foremost a storyteller.
I think a more modern crime novelist – Elizabeth George, Peter Robinson, Deborah Crombie – (just to name a few) would give the reader a complete sense of the setting, of the detective's every turn of thought, of every creepy ramification of the Jekyll and Hyde character created.  To me, Butler is a "bridge" novelist.  She began her career in 1959 while several of the Golden Age authors (Christie and Marsh specifically) were still at work.  She uses their brisk playbook as her template.  In this late in the series novel she's bringing a bit of psychological depth to both her villain and her main character, but she's stuck to the storytelling parameters set down by the Golden Age ladies.
Just a few years after Butler started writing, P.D. James (1962) and Ruth Rendell (1964) began their careers.  They too began writing within the golden age parameters – early books by both ladies are much shorter than their later efforts – but the psychological depth both women bring to their writing is already present in their first novels.  Both James and Rendell continued to develop and in doing so (I feel) kicked off a second golden age of crime fiction, where much of the emphasis is centered on the aftermath of crime rather than the mechanics of the act of murder.   Butler, while hewing to the first golden age, still created satisfying, enjoyable stories – the very kind of novels I prefer to read last thing at night.  She's a bit forgotten now but well worth a look if you enjoy your Detectives British and to the point.
(Used, various editions, $3.50)