Chris Grabenstein, charming and personable author of the John Ceepak mysteries, has now veered into young adult territory, with striking success.  He has a few books he's written with James Patterson for middle grade readers, and this one, a standalone, is pretty much an instant classic.  Bearing a similarity to Charlie and the Chocolate Factory in format, this fun volume is a love letter to libraries, reading and enthusiastic young readers everywhere.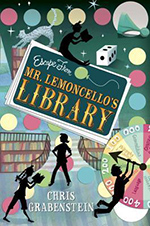 Much like Willy Wonka, Mr. Lemoncello is a legendary figure, a puzzle and game creator extraordinaire.  He's also rehabbing the local library in Alexandriaville, Ohio, and he's holding a contest to let twelve lucky twelve-year-olds be the first patrons of the new town library.  They'll be locked in for a weekend of fun, games and puzzles.  All the kids have to do to get to be one of the twelve is write an essay telling why they want to be a part of the new library opening.
Our hero, Kyle Keeley, grounded for a week, has forgotten to do his extra credit homework which, you guessed it, was the essay for the library contest.  Through a series of circumstances Kyle is indeed one of the lucky twelve (hardly a surprise as he's the main character).  Unlike the other contestants, Kyle isn't so much a reader as a puzzle and game aficionado.
As the contest gets underway, alliances form, and the kids playing the game all take on distinct personalities.    The library itself is unbelievably fabulous – just reading about it makes you wish it were real (much like Mr. Wonka's factory), and while this book is jammed full of references to other books and authors it seems natural, not forced.  They're just part of the library landscape Grabenstein is depicting.
Filled with tricky puzzles and clues, Mr. Lemoncello's Library is a completely charming and fun ode to reading and using your brain wherever possible.  As Kyle's team nears the end of the story, you'll be rooting for all of them and trying your best, along with them, to solve Grabenstein's clever and witty puzzles.  This is a book to treasure and re-read.  Any 10- or 11-year-old worth their salt will be in absolute heaven between the covers of this book, which is geared neither for girls or boys but for either.  As I said at the beginning of this review, this book truly is an instant classic.