Sheila Connelly is one of the Energizer bunnies of the cozy universe, writing three series as well as a couple stand alones.  She's one of our best selling authors.  Each series ties to an actual passion or interest of hers – this one is centers on the head of an historical museum in Philadelphia, Nell Pratt, a former fundraiser who is now in charge of things.  Since many of our customers and many mystery readers are academics and/or librarians, this particular series should have serious appeal.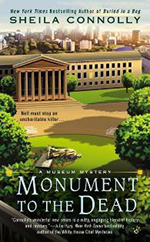 The detective work is done through archival research and good old fashioned Sherlock Holmes-style deductive reasoning.  When one of Nell's most generous board members dies suddenly, it's not unexpected, just sad.  But when Nell asks her assistant, Shelby, to put together a database of city wide donors so "asks" won't be doubled (what a great idea) they stumble across a suspicious cluster of deaths of older board members.  With the help of Nell's FBI boyfriend James and an energetic board member named Marty, they search for connections in the deaths that may or may not exist.
Connolly is able to get across a real feel of Philadelphia upper crust, the way non profits function, and the interconnectedness of high society, using the character of Marty as a perfect illustration.  Marty is on the older side with time on her hands, smarts, and lots of energy.  She's also related to almost everyone in Philadelphia, including James (who she calls "Jimmy"), and she often proves to be Nell's ace in the hole.
One of the interesting bits of this novel is the collection held by the museum of a famous 19th century actor, Edwin Forrest.  I was sure he was a figment of Connelly's imagination, but he was a real person, and his story and his connection to the museum prove to be fascinating.  I always like to learn a little something with my mystery reading.
The novel is a crisp read and as it turns out to be actually the fourth novel in this series, there are some developments between Nell and James that I imagine Connelly has been laying out since the first book.  I won't spoil things for readers who haven't gotten to this installment yet, but I will say Connelly has a deft hand with her characters, making you care about them and believe in them.  They felt real.  This is a pleasant, brisk read, and I'd recommend it to anyone who enjoys a little archival detection.