This is the book Swanson fans have been waiting for – for fifteen books now, Swanson has resisted matching up her wonderful creation of Skye Dennison with a particular man.  In this one (spoiler alert) Skye and Wally are finally getting ready to walk down the aisle.  If you are a Facebook fan of Swanson or have read all the books, this won't come as a surprise.  Swanson has always been an interactive author, arriving at her very first signing at our store with her mother in tow and giving the entire audience a personality test.  For this novel, she posted photos of possible wedding gown, shoe, cake and flower choices online.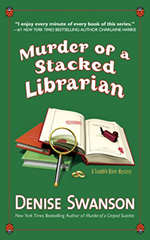 Her particular blend of her actual life skill – she worked as a school psychologist, just as Skye does – with humor and great plotting skills as well as a way with characters have made her books one of the most enjoyable cozy series around.  These feel like they are someone's passion, not someone's assignment.  That's always a happy mixture.  That the telling of the stories seems so effortless is a tribute to her skill as a writer.
This particular installment involves Skye's wedding, of course, but there's also a murder to kick things off.  As Skye is sitting in the library trying to write her wedding vows, she witnesses an altercation between the (yes) stacked librarian and a too-persistent would-be suitor, who the librarian manages to dispatch very efficiently (and somewhat painfully).  She and Skye have a chat about the line between right and wrong, and then Skye is on her way.  The next thing she knows, the librarian has been found dead.
The initial thinking is that her death was an accident, but this is a murder mystery and of course it isn't.  Wally, the town police chief, has added Skye to the police roster as a psychological consultant, giving her a reason to sit in his investigations.  This was a wonderful brainwave, as after fifteen books it's a stretch to think that school psychologist Skye keeps ending up involved in murders.
As Skye and Wally attempt to plan their wedding while also trying to solve the murder before the ceremony takes place (so they can have a worry free honeymoon), the other parts of the book that make this series such a stand out come to the forefront.  The cast of characters Denise has created through all her books are strong and she's really created a believable and interesting community for Skye.  They add spice to every story, as do different members of Skye's family, who can serve as a help or a hindrance, or both, in the exasperating manner of actual family members.
There are several red herrings and dead ends before Skye and Wally figure out whodunit, but the real nail biter in this book was whether Skye and Wally would make it down the aisle in a timely fashion.  I'm happy to report, they do!