I enjoyed the first two books in this series featuring vicar Max Tudor very much.  The first, Wicked Autumn, was a pitch perfect tongue in cheek send up of a British Village mystery; the second, Fatal Winter, adjusted the tone somewhat so that the book read slightly darker than the first.  In this third novel, just like Goldilocks on her third try, Malliet seems to have gotten things "just right."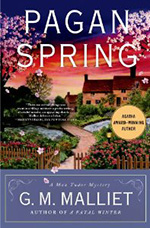 She's set her cast of characters in the village of Nether Monkslip, and much like the characters in Louise Penny's beloved Three Pines novels, each character is distinct, though none are as interesting to the reader (and I think, to the author) as the central character of Max, the dishy vicar who resembles Hugh Grant and who used to be an agent for the MI5.  Max has lately taken up with the village's resident pagan goddess, Awena, who if anything is even more secure in her belief system than Max himself.  In any case Awena is off canvas for much of this novel, though she's never far from Max's thoughts, as he goes through life in a newly happy daze.
Of course, however, there's a murder and it's a dandy.  As with many mysteries it's the unpleasant that are felled, and when retired actor and egomaniac supreme Thaddeus Bottle is discovered dead in his bed one morning, Max, as usual, is helping the capable Inspector Cotton sort through the morass of village alliances, emotions and entanglements.  No one seems too cut up about Thaddeus but a murder has its own repercussions, no matter who's been killed.
It's here that Malliet has hit her stride.  The tone of the novel is matched with the setting – not too light, not too dark, and the pace is excellent.  Malliet's actual prose is a delight, well crafted and memorable, and crisp in a way not present in every crime novel.  It's a pleasure to read it, and one of the real pleasures of the books.  She's also amped up her psychological as well as deductive reasoning skills as a writer, and as a reader, it makes Max's investigating that much more interesting.
The denouement, in classic golden age style, is something of a surprise, and you'll find yourself somewhat in tune with the murderer.  Those golden age ladies could get you every time with that kind of trick (Ngaio Marsh's Death is a White Tie still sticks with me for that very reason) and Malliet has much in common with her forebears – Christie, Marsh and Tey.  While these novels are updated versions of the golden age version of the village mystery, this is a gentle update.  The things a reader enjoyed about Miss Marple's St. Mary Meade will be similarly enjoyable here.  To me, that's a compliment of the highest order.
The final reveal is somewhat shocking but Malliet has patiently prepared her canvas.  I had a hard time putting this one down.  She also leaves Max and Awena at a crossroads.  As far as seasons go, "Summer" is the only one left, and I can't wait to see what happens next.