Julia Keller's first novel was a knockout, and this second book in the series may even be better.  She brings an amazingly assured voice to her storytelling, reminiscent very much of Sharyn McCrumb's classic ballad novels.  The thing is, McCrumb wrote those after she'd cut her teeth on her (admittedly great fun) Elizabeth McPherson books.  While Keller has been a journalist and has written a non-fiction book, she plunged into novel writing full speed ahead with the first in this series, A Killing in the Hills.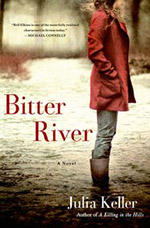 American mystery writing – to my biased mind – doesn't get much better than the mix of grit, setting, rich characters and sheer story telling power Keller brings to her work.  Oh, and her prose is beautiful too.  I'd compare her to a couple of my other favorite writers, William Kent Krueger and Julia Spencer-Fleming, for the beautiful prose and passion all three seem to share.
Comparisons aside, Keller very much has her own original voice.  Her central character, Belfa Elkins, is the county prosecutor in tiny Acker's Gap, West Virginia.  Acker's Gap is her childhood home; she's returned there from swanky Washington, D.C. to make a place for herself as an adult in her former hometown.
Because of some events and struggles in the first novel, Bell's teenage daughter, Carla, has moved back to D.C. to live with her Dad.  Bell sorely misses her though as usual her job is eating up her time and attention.  The story opens with two things: one is the fact that Bell's sister is missing and she can't bring herself to leave Acker's Gap for fear she'll miss her if she decides to turn up.
The other is the death of the local teen age star, Lucinda Trimble.  Lucinda was apparently beautiful, athletic, intelligent and nice.  She seemed to have no enemies in the world, but she's still turned up dead in her car, submerged in the Bitter River.  She's found by a jogger and it's the sad duty of Sheriff Nick Fogelsong to deliver the bad news to Lucinda's mother, Maddie, a former flame.
Nick's past connection to Maddie and his lack of professionalism when he notifies her alone comes between him and Bell, and explains some of the later events, most of which are foreshadowed by the relentless press of the story and the events in the small town.  Bell is distracted by the arrival of a former DC acquaintance who has come to town to regroup away from the big city in the comforting shade of the mountains.
The crises in Acker's Gap go from bad to worse.  Lucinda's death is proving a tough nut to crack, and then another tragedy rocks the town.  Bell and Nick's estrangement prevents them working together effectively, and when Bell is briefly knocked out of commission, it throws a further wrench in the works.
Nothing gets in the way, however, of Keller's efforts to tell a riveting and moving story.  In this novel she is examining all the fierce permutations of love, and how the ties of family and kinship can either help or hinder you in the world.  She also takes a hard look at the bleak and overriding poverty in Appalachia.  All in all this is a reading journey you won't quickly forget.  After you dry your tears, it will probably also make you thoughtful long after you've turned the last page.