Louise Penny has always possessed a "voice", a recognizable prose style and way of telling a story, but as her career has progressed you can feel the originality and power of her voice increasing.  She's exploring deeply personal themes and rigorously examining her characters from the inside out,  giving them a little (or big) shake. While Gamache has some mystery left (and hence some of his own mythic power) there's lots we've learned about him as readers since the publication of Still Life.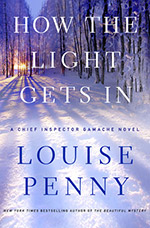 We haven't seen him as we see him in this book, though.  His department has been dismembered and redistributed by his nemesis, Francoeur.  Being Gamache, he sails through circumstances others would find intolerable with a good attitude, but it's still disturbing as a reader to find him not surrounded by his hand-picked crew of stalwart individuals, and underneath, he is struggling.
This is really a conspiracy novel at its heart, with many threads that Penny very deftly weaves together as she goes.  She kicks off her narrative with an evocatively creepy passage involving a terrified woman driving through one of Montreal's underground tunnels.  After giving your heart a quick jump start, she moves the action back to Three Pines.  Like Hitchcock, Penny is expert at setting episodes of terror down among the ordinary day to day lives of the people she is writing about.
The main threads involve the death of Myrna's mysterious friend, Constance, who turns out to have a remarkable secret; Gamache's quest to discover who has leaked the video of his men being shot which first came to light in Bury Your Dead; and the tragedy of the drug addiction of Gamache's former right hand man, Beauvoir (also the now former boyfriend of his daughter, Annie).
There's a lot of anger and misunderstanding and miscommunication for the characters to work through in this book.  The title refers to the darkness that many of the characters, including Gamache, are struggling through before they are able to see a tiny glimpse of light at the end of their particular tunnel.   That takes you back to the image of the tunnel which opens the book.
Penny is able to adroitly draw her many threads together in a suspenseful denouement that will perhaps leave you with your heart in your throat for a scary moment or two.  As always, the ending of the book brought me to tears – I would be disappointed, at this point, if it didn't.  Penny's true strength lies in her remarkable ability to portray human beings and to make them understandable, if not always likeable. Even if you don't like them you can relate to them on some level. You can give almost anyone in her books the benefit of the doubt, which is a nice attitude for life in general.
She leaves a thread hanging at the end of the story for her to follow up with in the next book.  I'm wondering how she'll handle it, but I've wondered that with some of her other books, and have never yet been disappointed.  This is another bravura effort from one of my favorite writers.