The Absent One, Jussi Adler-Olsen's second novel in his gripping Department Q series, creates one of the more interesting female characters in recent fiction.  While Kimmie, the "absent one" of the title, is certainly not entirely sympathetic, as Adler-Olsen draws the reader deeper into her world there are sympathetic glimmers.  Explanations of her behavior.  And a portrayal of an exceptionally strong woman who ultimately chooses to do the right thing.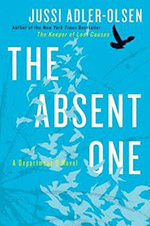 While that is part of this novel, this is also, like the first novel, a terrific thriller that will keep any reader glued to the page.  Adler-Olsen has set up his two main characters, Carl and Assad, as a perfect yin and yang.  They are the reliable and comfortable center of the novels, and in this one he's added a third party, Rose, greeted by Carl as grumpily as he initially greeted Assad.  Despite Rose's alleged assignment of assembling new desks for their workspace, she manages to prove to Carl that she has plenty to offer.
This is a meticulously assembled novel.  There are several threads which don't clearly hang together at first but eventually they do.  Department Q is a cold case department, and a file comes across Carl's desk where the murderer has been found, tried and put in jail.  As far as Carl's superiors are concerned, there's nothing to investigate, but the more Carl reads about the case and as he talks to various people involved, the more certain he becomes that there was more than one perpetrator.
The case, a brutal killing of a young sister and brother, seems to connect to a gang of privileged boarding school kids who on their own are alarming enough; united, they are a malevolent force to be reckoned with.  The missing piece of their little group is Kimmie, who has been living on the streets of Copenhagen for years, invisible to everyone, even to those who are trying to find her.
The file has a notation of a series of crimes that seem to also be connected to the same gang – brutal assaults and disappearances or murders that have remained unsolved.  As Carl and Assad begin to carefully and thoroughly uncover clues and investigate the case, they are ordered to stop by the police commissioner.  Like any good mystery hero, Carl operates under his own set of rules, and he doesn't stop investigating though things get dicey as the gang appears to be leaving some subtle threats in his home.
Kimmie's story is threaded through the narrative – as we come to know the male members of the gang, now all very successful businessmen – we also get to know Kimmie and her backstory.  The reason she's living on the streets isn't completely revealed until towards the end of the book, but as you read Adler-Olsen keeps the reader in a state of unease.  Was what Kimmie did justified?  How culpable was she?  How long can she remain invisible?
I would say Kimmie's behavior, while far from justifiable, is ultimately understandable and in portions forgivable.  It's a subtle and not so subtle story of sexism.  The subtlety comes with the fact that while Kimmie was a part of the gang, she's also used by them in various ways.  Destructive herself, she's a real portrait of a complicated human being.  To find that inside a novel that has as many gory thrills and twists as a Jeffery Deaver novel is a dark delight.  Adler-Olsen is definitely one of the best additions to the new wave of Scandinavian crime fiction.