This novel has garnered lots of praise and attention, as well as winning the Edgar for Best First Novel.  I can say it was a well-deserved award – this is a very original and quirky novel that is more than worthy of all the attention.  It's not much like any other novel I've ever read – it has spy elements, international elements, and a strong domestic element that brings what is primarily a spy thriller into the more human realm.  It made me like it much more.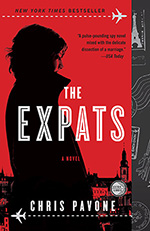 I'm not big on spy thrillers and they haven't been a big part of the genre for awhile – though it's making a comeback, certainly, with the success of authors like Vince Flynn or the slyly imaginative Mike Lawson.  Pavone brings yet another take.
Kate Moore's life has taken a new trajectory as her husband suggests they move their family to Luxembourg for his job and their future financial security.  Kate has to quit her own job but quickly realizes she's happy this decision has been taken out of her hands – she's glad to have the incentive to move forward, and she begins the long process of leaving, it turns out, the CIA.  She and her family re-settle in Luxembourg becoming, as the titles suggests, ex-pats.  She says to her husband it's like freshman year of college – everyone is in a new situation and you're more open to new experiences and people.
Mixed in with a growing sense of tension regarding Kate's suspicions of exactly what her husband, Dexter, is up to – he's absent for long periods, leaving her alone with two small children – is the surprising unraveling of her marriage.  She becomes dissatisfied with her domestic chores and finds them dull after being a CIA operative, as well she might, I guess, but I was slightly irritated by her irritation at the necessity of scrubbing toilets and doing the laundry.  We all have to do these things.  (It made more sense when I read the end note and found that the male author had been an expat house-husband himself at one point and especially resented the tiny washing machine that could only wash four pairs of children's pants at a time).
That aside, Pavone's delicate dissection of the growing mistrust and distance between Kate and Dexter is masterfully handled, giving an already tense story another level of tension.  It's a little like an amped up version of the movie Charade.  As they encounter other expats, notably another attractive couple, Bill and Julia, the undercurrents to every interaction between the four adults could be cut with a knife.
It becomes clear that while Kate has hidden her CIA background from her husband, Dexter is hiding something just as big from her, and it's shattering to her as Dexter has been the one constant in her life that she hasn't felt a need to investigate.  She's never felt he needed to act the wealthy financier (though apparently, that's what he's becoming) or try and be anything he's not.  The real journey of the novel is Kate's reluctance to investigate Dexter, as well as the expert help she's able to receive when she does and her own investigative expertise coming to the fore.
Kate's also remembering some of the things she did as a covert op that she regrets and that, in fact, haunt her.  The denouement is both a suspenseful and clever wind up of the story, with more twists than you can count, and the coming clean of husband and wife to one another.  This is a wonderful, fresh book by an inventive new author.