P.J. Parrish – or the sisters who write as P.J. Parrish – are paperback writers in the very best sense of the word.  They deliver a good story, well told, with reliable characters and settings, asking only that their readers enjoy the journey they deliver. Almost always, they fulfill this promise.  With their new novel, set on Mackinac Island, I was holding my opinion in reserve.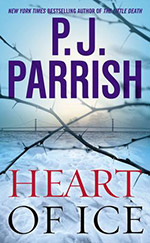 Full disclosure:  I grew up on Mackinac Island, so I wasn't so sure they could get it right, having read other novels set on the island that had a misfire or two (or more).  I was at first cautious but then more and more delighted as they really seemed to "get" the island (and it may help that one of the sisters lives in nearby Petoskey), but after awhile the story they were telling was simply so good, the island details really didn't matter.
Their series hero, Louis Kincaid, has returned to Michigan after his last adventure in Florida, coming back to connect with a small daughter he didn't know he had.  His daughter, Lily, is the entry point to the story, as Louis is out exploring the island with her when she darts away and disappears in an old house where she takes a tumble and lands on some old bones.  That sets off a string of events that has Louis working in his capacity as a private investigator with the island police chief, who isn't too familiar with homicide procedure.
The novel weaves its spell with several threads.  One of them is the opening prologue, which finds a young man falling through the ice bridge – the part of frozen Lake Huron marked off with islanders' Christmas trees to show a safe passage back to the mainland – and it seems he has a story to tell.  So too does Danny Dancer, living alone in the island woods with a cabin full of animal skulls – and one human one.
The bones Lily falls on are also human, and Louis and the Mackinac Island Chief, Flowers, think they might be the remains of the long missing Julie Chapman.  The only problem is, the skeleton they've discovered has no skull, so they can't use simple identification methods like dental records.  They're going on the evidence, instead, of a class ring from an exclusive Detroit area private school found with the bones.  Julie's family still has a cottage on the island, and Louis's trail leads him there.
There are some missteps, some misunderstandings and some just plain politics as Louis, Flowers, and a state investigator with uncomfortable ties to Louis' girlfriend, Joe, try and work together.  The different investigation techniques of the three men sometimes slow progress rather than advance it, but slowly they begin to lurch toward a solution.
As Louis continues to be drawn into the case, he also starts to realize he has more ties to Michigan than he had imagined.  It's a kind of stopping point for him where he's figuring out where his life might be going, and in fact all three men are at different crossroads in their lives.  As it turns out, the missing and presumed dead Julie Chapman was also at some kind of life crossroad, and it's that mystery that the men focus on as they unravel her family's secrets.  The ultimate solution to the mystery is a twisty and riveting one, worth any ending ever delivered by Jeffrey Deaver or Harlan Coben.  By the end of the novel I couldn't stop reading, which is maybe the best compliment you can give any book, paperback or no.