With her wry sense of humor, British writer Jane Casey most closely resembles her fellow country woman Cynthia Harrod-Eagles. Slightly gritty, her police stories are still tempered by some humor and interaction between the central characters that lightens the heavy load of the stories she tells. This fourth outing deals with the grisly murder of a mother and daughter. They're discovered by the surviving daughter – a twin. The father is a well known barrister.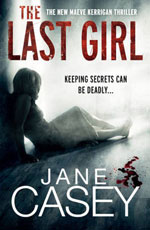 Called on to the case are Maeve Kerrigan and her brash partner Josh Derwent. Refreshingly, they aren't romantically interested in each other – they just work together. Maeve is involved with a fellow officer, Rob, who has transferred divisions so they can continue to see each other.
Kerrigan and Derwent are horrified both by the crime scene and the cold insensitivity of the dead twin's father – the other twin goes to stay with an aunt while he stays in his own flat in town. Both officers think there's something off about him but can't prove anything. A cagey veteran of the courts, the father gives nothing away, hampering the investigation.
Kerrigan and Derwent are of course part of a larger squad who are immersed in a series of gang related deaths throughout London. These, too, are proving stubbornly unsolvable. The maelstrom of day to day police work is well portrayed by Casey, who brings a real ability to illustrate life in all its facets to her storytelling. The gang thread is one that has ties to a previous book (The Reckoning), and the love life of Maeve and Rob is following a circuitous path through all the novels to date, with Maeve's cluelessness and fear of commitment getting in the way of their relationship.
The central story is a gripping one. The surviving sister is not only traumatized, she has previous psychological issues; her father is cold and unsympathetic, as is her aunt; and luckily a long lost sister steps to the fore and takes her in. This isn't a happy ending type story though. The psychological threads are very dark, as is the resolution to the story. That's what makes Casey's humor and occasional light touch so very welcome. I'm already looking forward to the next book.