While there are many, many legal thrillers out there, there are few of them that I personally enjoy.  I am a big fan of David Ellis, as well as a sometime fan of Scott Turow, Linda Fairstein and Lisa Scottoline, and now I can add to that short list Adam Mitzner.  This is apparently his second novel, though, like Ellis, he doesn't write a series.  Like many other writers of legal thrillers, he is also an attorney.  The legal backdrop, to this non-attorney, seems very authentic.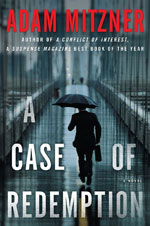 Taking a plausibly ripped from the headlines storyline, the novel centers on murder charges against a rapper whose stage name is Legally Dead.  His back story is that he was shot four times and left for dead, thus the name.  L.D. (as he's called by his friends) is in prison for clubbing his girlfriend, a famous singer (think Beyonce or Rihanna type famous) named Roxanne.   The thing that seems to clinch his guilt is the fact that one of his songs – now getting constant airplay – discusses killing a singer with a baseball bat.  As a final nail in his coffin, it was written before Roxanne's murder.
Enter our hero attorney, Dan Sorenson.  Like many a David Ellis hero, Sorenson is damaged goods.  He's recently lost his wife and daughter in a car accident and has been in hibernation, comforted mainly by a bottle of scotch.  He comes out of it only when asked to take L.D.'s case by another lawyer, Nina, who believes in L.D.'s innocence.
Dan isn't buying the innocence bit but he agrees to meet with L.D. He's feeling guilty about another client he got off,  as well as the way he neglected his wife and daughter by working all the time.  In short, he's looking for some karmic atonement and when he meets L.D. he thinks maybe he's found it.  For some reason he, like Nina, is convinced of L.D.'s innocence and before he knows it he's all in.  He and Nina set up shop in his apartment and go to town as best they can.
There are some givens in legal thrillers.  One is the unaccommodating – to the point of unfair – Judge.  One is the surprising background fact about the client.  One is the scruffy expert witness who supplies a vital clue. One is that the main character lawyer is in disgrace and working without the support of a large firm.  All of these tropes are present here, but the sting, as they say, is in the tail, and the ending of the story doesn't disappoint.
The legal scrambling is completely believable, as is the portrayal of the former white shoe firm where Dan worked before the accident.  The trial – the obvious denouement – is saved for the end.  Like a good true crime book, a good legal thriller doesn't need to spend too much time in the courtroom.
Mitzner is a good, page turning story teller.  Like another favorite popcorn thriller writer of mine, Michael Palmer, Mitztner has the narrative goods.  He has a good story to tell and he delivers, with a good number of unexpected twists.  I liked the main character.  I liked that he was looking for karmic justice.  And I like that the author  leaves it up to the reader to decide whether it's been found or not.