You know how back in the 30's and 40's there was a famous "Detection Club", with members like Agatha Christie and Ngaio Marsh?  That was the so-called "golden age" of detective fiction.  I think the U.K. now needs a new club for writers – "The Creepy British Women Mystery Writers Club."  Either it's something in the water over there or a national predilection, but it can't be a coincidence that writers like S.J. Bolton, Sophie Hannah, Jane Casey, Denise Mina, Mo Hayder, Tana French, Val McDermid (and I'm sure there are others) are producing such genuinely disturbing books that they almost make you flinch to open them.  All of these women are the direct descendants of the great Ruth Rendell, who could teach just about any of them the meaning of the words "concise, yet creepy."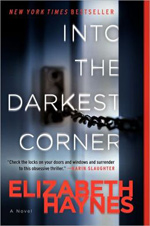 Add to that list Elizabeth Haynes.  Her first novel, Into the Darkest Corner, gets under your skin and stays there.  Her heroine is one Catherine Bailey, and you're inside her head as she lives her present life, where she obsessively makes sure her doors and windows are locked and closed correctly, to her previous life where she was a club hopping party girl, dating a man named Lee.
We know there's something wrong with Lee as the book opens with him being questioned at his trial, but Haynes builds a careful portrait of a relationship that looks good on the outside and is so wrong on the inside.  She contrasts this with the healthier relationship Catherine has in the present with her upstairs neighbor, a psychologist named Stuart.  She can't really open herself up to Stuart because of her past, and he's incredibly patient with her.
Haynes is excellent at illustrating how a smart, capable woman like Cathy could get involved with and end up being trapped by a man like Lee.  It's an exquisite – and exquisitely painful – portrait of domestic abuse.  One of the most difficult parts for Cathy is that her friends think Lee's just great – handsome, sexy, and so obviously devoted.  Well, Haynes shows us all the ways that kind of devotion can be super creepy.
This book is a little bit too long, and even though I raced through it, I think the author could have compressed both parts of Cathy's life to make the pace of the book a bit brisker, and it's very much a first novel in that sense, even to the point of having one or two loose threads when the story is finished.
While I was reading it I was also almost horrified with myself for reading it – it's a truly awful and terrible story, but it has a giant redeeming quality.  I'm pretty sure the author intended the feminist slant she gives her story, and it's ultimately a story of strength and survival.  You can almost hear Gloria Gaynor singing "I Will Survive" in the background.  And thank goodness. This is a harrowing, but definitely a compelling, read.  You might want to make sure you read it when the lights are on, though.