Bleed for Me is an interesting mix of very early Jonathan Kellerman (the good stuff) and Tana French.  Robotham has French's writing chops and a way with prose – but he has Kellerman's knack for suspense, some of it down and dirty. His central character is Joseph O'Loughlin, a psychologist and sometime police confidant and consultant. While Kellerman's Alex Deleware is always specifically called in on a case, O'Loughlin's ties seem more tenuous, though he certainly has friends on the force.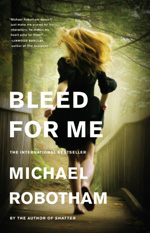 The story opens with O'Loughlin discovering the missing Sienna Hegerty, best friend of his daughter Charlie, bloody and nearly dead in the woods.  He gets her to the hospital and all hell breaks loose – her father has been discovered murdered, and Sienna is the main suspect. Joe is asked to do a psych evaluation of the girl.  His police contact, the gruff Ronnie Cray, involves him in the case from the start.
Unfortunately the case has personal repercussions for O'Loughlin, who is worried about his own daughter Charlie (kidnaped in the last book). His worries center on a drama teacher, Gordon Ellis, who seems a bit off to O'Loughlin.  His perspective is skewed because of the affection he has for Sienna, and the worry he has for his daughter.
The story is made more specific by O'Loughlin's on and off struggle with Parkinson's disease and a separation from his wife that looks to be budding into a divorce. He's not actually a miserable guy, though, setting him apart from many other contemporary detectives.
Robotham's skills as a suspense novelist are first class, especially as the whodunnit isn't really in question, it's the how and whydunnit, as it is in any good psychological thriller.  While Robotham also can craft a beautiful sentence, he's not held up by prose as his story races toward the finish line. While the perpetrator isn't a surprise, what is a surprise are the number of darkening layers to his complex story.
I'd be more than willing to read the rest of the series, though naturally the first one isn't available. This one stood nicely on its own, however, so don't be put off by beginning mid-series – just plunge right in.