While I am weary of Anne Perry and can't read another sentence by her, I am infatuated with Tasha Alexander's delicious books set in Victorian England.  Featuring Lady Emily, wife of the dashing Colin Hargreaves, she and her husband get around the continent solving crime puzzles on behalf (secretly) of her majesty's government.  They make a good team, as Emily can go where Colin cannot, and vice versa.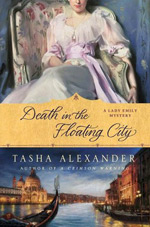 In this outing Emily and Colin are in Venice to help a childhood frenemy of Emily's, Emma Callum, find out who has murdered her father in law and framed her missing husband for it.  Emma has married well – her husband is an Italian count and they live in a magnificent Venetian home – but she seems strangely unhappy.  Putting her old feelings aside, Emily promises to investigate.
One of the strengths of this series is the fact that Emily is also a scholar of Greek – everything Greek, the language, the art, and the literature.  Because she has instilled scholarly discipline in herself, she is often able to bring it to bear when she is investigating crimes.  It's a translatable skill, obviously, and in this adventure she puts it to good use.  And better yet it's a believable skill.  It helps to make Emily as a whole more believable.
Another strength of the series – and really, it's not a small one – is that Alexander is wonderful at settings.  She makes you really feel as if you are there, whether it be Venice, Istanbul, or Vienna.  She has written about all of them and after every book I feel I've made a bit of a journey.  Another bonus are the clothes Lady Emily wears – lovingly described, I feel I've been "there" too.  It's only one of the things that makes me look forward to a new Lady Emily installment.
The story in the book is complicated and has a parallel, and powerfully moving, story set in the past, which Emily and Colin only slowly uncover as they search for the count.  Emily is helped by Donata, the daughter of a bookseller, and she and Emily begin to uncover the secrets behind a slashed portrait and an old ring clutched in the dead count's hand.
The Renaissance love story recounted between chapters of Besina and Nicolo, scions of two warring families, was never to be, though the lovers always found a way to communicate.  Their love is a love affair of words, and the words have their own effect on the reader, drawing you further into the story.
Emily takes her handy gondola all over the city, uncovering clues in paintings as well as in old documents, while Colin takes on the more action oriented task of hunting down Emma's missing husband.
Eventually I was flipping faster and faster through the chapters, dying to see what happened to Bessina and Nicolo.  As the women uncover secrets both about the dead lovers, the dead count, and Emma's missing husband, things come to a very satisfactory (though at points heartbreaking) finale.  This is another completely enjoyable entry in what has become one of my favorite historical mystery series.