The two signature books of the summer, Gillian Flynn's Gone Girl and Tana French's Broken Harbor, share a theme: the recession, joblessness, and the losses that come with those circumstances.  In Gone Girl, Flynn's characters lose their jobs and investments and are forced to leave Manhattan for the wilds of Missouri, where they are fish out of water.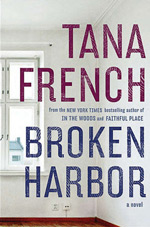 The former Dubliners in French's novel, Pat and Jenny, find their dream home in a development that never "developed," far out from the city and away from any of their friends or former lifestyle.  And their move was made for the most prosaic of reasons:  so their kids could grow up in a real house with a backyard.  Like Flynn's characters, Pat has lost his job, and the development is a ghost town.
Unfortunately, as the book opens, Pat's employment status is moot, as, along with his young children he has been found dead in his dream home.  His wife, though not dead, is still gravely wounded.  As the detectives called in to handle the case assess the crime scene they are mystified not only by the extreme violence that killed the husband and maimed the wife contrasted with the almost peaceful nature of the children's deaths.
And then there's the house itself.  There are huge holes punched in the walls throughout the house, and the attic holds an assortment of cameras and a giant animal trap.  Detective Mick "Scorcher" Kennedy, in charge of the case, tells his rookie partner that anything odd or unexplained is a gift.
As the detectives wait to see if the wife will wake up from her coma, they begin to meticulously take apart the young couple's lives.  A seemingly golden couple, things had fallen apart when Pat lost his job.  And then there's the personal repercussions for Mick himself, who has his own tragic connection with Broken Harbor.
For French, this is a more straightforward novel than usual – it's almost a straight up procedural, but I stress the almost. Kennedy has a backstory in Broken Harbor (now renamed by the developer "Brianstown") that impacts how he views the case – or does it?  French teases out the psychological motives and behaviors of all the characters throughout the novel, layering her story with the backgrounds and ghosts of all involved.
One of Tana French's great strengths is her prose – it's poetic and beautiful and she is better than almost anyone at articulating atmosphere.  One of her drawbacks, in my opinion, is her tendency to write too long.  This is a wonderful novel, and one that could have been even better with 50 or 100 pages cut from it.  I wandered a bit attention wise at some points, but by the end I was totally glued to the page.  The resolution of the story is unexpected and yet well foreshadowed.  You'll finish the book with a real knowledge of Mick Kennedy and his heartbreaking case.