Our book club recently read and enjoyed Jane Casey's first novel, The Burning, prompting me to turn to her second, The Reckoning. Casey's series is a British police procedural centered on Maeve Kerrigan, an ambitious, hard working, clueless-about-her-lovelife young woman who may remind readers of Helen Mirren's indelible Jane Tennison.  Though Kerrigan is younger than Tennison, even all these years later, she's experiencing the some of the same kind of sexism and suspicion ladled on Tennison.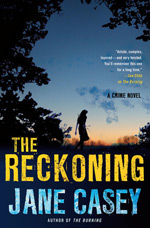 While that is an aspect of the books, Casey's focus is mostly on the actual stories, which, if the first two books are anything to go by, are gripping.  This novel centers on a string of gruesome murders of pedophiles, seemingly unconnected to each other either by method or by type of victim. Maeve feels she's been brought into the case by the brusque Josh Derwent as window dressing.  He delegates the easy, no thought tasks to her, almost becoming angry when she shows initiative.  Being Maeve, she does anyway and is able to put together some insights by working her way through the evidence.
Meanwhile Maeve is also trying to figure out a shaky relationship with fellow policeman Rob, one where she keeps holding him at arm's length for no good reason.  This is the only area of her life where she got on my nerves.  She's believably young and ambitious, has a very real relationship with her parents and her brother, but somehow the love life bit of it eludes her.  It's frustrating to the reader because Rob is so obviously a nice guy.
The three cases of the brutally murdered men appear too coincidental not to be linked, and then thrown into the mix is a missing teenage girl, complicating matters.  The initial investigation was somewhat mishandled and Maeve's team takes over.  The detail Casey supplies in each case is just enough, maintaining both suspense and psychological detail.
While I compared this earlier to Prime Suspect, with Casey's pretty straightforward storytelling and interesting central female character, she also reminds me a bit of one of my favorite writers, Lillian O'Donnell.  O'Donnell's Norah Mulcahaney solved lots of cases with her smarts, despite the lack of faith in some of her co-workers.  Like O'Donnell, Casey is a wonderful storyteller.  I'm already looking forward to book three.