I think it's safe to say this is the book of the year, and there isn't always a "book of the year", a book everyone's talking about and reading.  But the premise and the voice in this book are so original and so captivating that the story will probably stay with you for a long, long time, and you'll probably want to talk about it.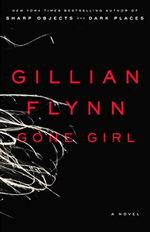 The author is definitely channeling psychological masters like Ruth Rendell and Patricia Highsmith.  Putting together this lean, vicious, compelling book is a real act of writerly fortitude, because it's an exhausting and sometimes terrible sprint.  And, like a Rendell or Highsmith book, when you get to the twisty middle, you know things are only going to get far, far worse.
Flynn, a former writer for Entertainment Weekly, is keenly aware of pop culture and uses the details of modern life perfectly. She's also used a premise for her story that's literally ripped from the headlines.  As the book opens, we meet Nick, wife of Amy.  Amy has disappeared, and Nick had come back to find her gone, their living room torn apart.  It's their fifth wedding anniversary.
As the story moves forward, the author switches from Nick's voice to Amy's – Nick recounting the present, Amy speaking from her diary, dating back several years and moving forward.  Nick and Amy Dunne had begun married life as a charmed couple – both beautiful and successful, both writers, Amy also had her own money from a series of wildly successful children's books her parents have written, based on her.
In short order the bottom falls out – Amy and Nick lose their jobs as journalists, her parents lose their book contract and most of their money, and the couple moves from a swanky Manhattan brownstone back to Nick's boyhood home of Carthage, Missouri, where Nick's mom is dying of cancer, Nick's dad has Alzheimer's, and Nick buys a bar with the last bit of Amy's money. He runs the bar with his sister, Go.
As Amy's disappearance stretches out things begin to look very bad for Nick.  As a reader you are inside his head and you can't tell – is he guilty?  Is he innocent? Where is Amy?  Is she dead? Even Nick's beloved twin sister isn't sure.  Nick and Amy's parents are constantly swarmed by reporters as the hunt for Amy amps up – with all it's attendant paraphernalia – press conferences, a "Find Amy" tip line and headquarters, and a few crazies coming out of the woodwork here and there.
You're not even sure where the author stands on the Midwest vs. the East Coast – she certainly delineates both precisely, but you are left to sort through your feelings for yourself.  The details of both are lovingly described, but the desperation of the folks in the economically bludgeoned Carthage is heartbreaking.
Then there's a huge twist in the story about half way through.  I'm not going to give it away, but this explication of a marriage, beginning with love and devolving into something else, is completely gripping.  Amy and Nick's manipulation of one another is maybe only a matter of degree, and that's what's so terrible about it.  It's just a few notches up (or down) from "normal".
Whatever your feelings are at the end of the book – and I admit, I was pretty creeped out by the time I finished it – you certainly won't be able to put it down, or forget it.