Steve Hamilton keeps getting better and better, and in this latest Alex McKnight novel he seems to have hit a fast paced groove.  This book is so spare and so elegantly assembled it seems effortless.  The dialogue snaps and crackles, the action doesn't let up, and underneath it all is the drumbeat of Alex's heart as he searches for his friend, Vinnie.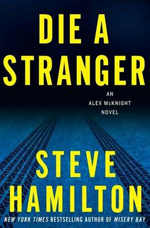 Vinnie, as readers of this series will know, is Alex's nearest neighbor, an Ojibwe who has moved off the reservation to be on his own.  His family is a bit puzzled by this behavior but things are in a state of uneasy truce, though Vinnie's sisters aren't big Alex fans.
The book begins with the funeral of Vinnie's mother, a lynch pin of the Ojibwe community.  She had raised Vinnie and his siblings single handed.  After the funeral Vinnie disappears, but Alex becomes concerned pretty quickly, knowing Vinnie's routines and behaviors well.
The other incident that jump starts the book is a drug deal on a tiny Michigan airstrip which has left several people dead.  The two events – Vinnie's disappearance and the fatal drug deal – seem unrelated, but when a slacker cousin of Vinnie's turns up missing Alex knows the two events are tied together.
While Hamilton hasn't structured his books exactly like a traditional private eye series – i.e., the  private eye has a lethal, if cool, sidekick – in each book there's still a partner of one kind or another.  In some books, it's been Vinnie; in some, the wanna be P.I., Leon, and in the last book, Alex's frenemy from the Soo, Chief Maven.  In this novel his partner turns out to be Vinnie's long lost father, recently released from prison.  Whether Alex likes it or not, Lou is on the hunt with him all over Michigan to find the missing men.
The way the story is told – and it's a dark one, full of violence and the underlying issues that separated Lou from his family for so many years – is completely unsentimental.  Yet in his way Hamilton cuts to the heart of things as surely as any writer of psychological suspense, he just gets there differently.  The emotional punch is still a strong one.
The fragile and frequently hostile ties Lou has to his former community and family are never emphasized but at the same time they are what underlies his frantic search for his son.  While Alex thinks like the former cop that he is, Lou thinks like the ex-con that he is, and their two ways of thinking somehow complement each other.
This book has enough twists, emotional and otherwise, for me not to want to give away too much other than to say this is a powerful, and powerfully told, story by a writer who is at the peak of his narrative powers.  At this point in his career Steve Hamilton hardly needs my rave review, but it's been such a pleasure to watch his career grow and to see his books accelerate and get better and better that I can't help myself.  In every way, this is an exciting ride.