Elly Griffiths has quickly become one of my favorite writers, and we sold so many copies of her first book, The Crossing Places, that she's obviously a favorite not just of mine but of many readers.  A big reason is her main character, the down to earth and very real  Ruth Galloway, an archeologist, professor and single mother.  But Ruth isn't the only reason these books are terrific.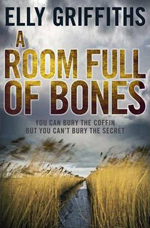 Griffiths is a true mystery writer, and she's become more accomplished at plotting with each book, though all involve connections to history and spirituality of a sort (though a very unconventional sort).  This one has perhaps the most traditional set-up – dead museum curator found next to the awaiting to be opened bones of a long-ago bishop.
The family that owns the museum is an old one, actually relatives of the dead bishop.  Though the patriarch has a title, he lives in a more or less ordinary house (the ancestral castle having fallen to ruins) and runs a racing stable with the help of his daughter, Caroline.   All the members of the family seem strangely disconnected from one another, helping to make the suspect pool a wide one.
Because it's Ruth who finds the body (she was meant to be in on the opening of the bishop's casket), she's thrown back into contact with police detective Nelson, the father of her nearly one year old daughter Kate.  Complication:  Nelson is married and has a family, and his wife has forbidden him all contact with either Ruth or Kate.
Thrown into the mix are some aboriginal skulls long held by the museum (and somewhat carelessly stored in the basement), and the appearance of one Bob Woonuga next door to Ruth.  He turns out to be a friend of Cathbad's – the series' druid in residence – and he's looking to reclaim the skulls of his ancestors, who he says belong back on their own soil so they can enter the "dreamtime."
While this sounds a bit complicated, the storytelling style of Griffiths, which is brisk and straightforward, makes it totally relatable and understandable at every point.  The theme of this novel, brought forward in various ways, seems to be for both artifacts and people to find their true homes.
While Griffiths weaves in various cultural traditions and world views to put across her point, the whole of the narrative, the characters, as well as the spiritual underpinnings are so nicely interwoven that the book reads simply as a good story.  The meaning I'm assigning to it came from thoughtful reflection after I finished the book.  And that's the way it should be , in my opinion.