Buttons?  What kind of interesting or even passable novel could be written about buttons?  Quite an entertaining one, as it turns out, by old pro Kylie Logan, who readers may also know as Casey Daniels or Miranda Bliss.  The premise of this cozy is that the central character is the owner of a brand spanking new shop specializing in all kinds of antique and collectible buttons.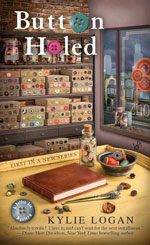 Set in Chicago, the brisk pace of the story seems to fit the Windy City quite well, as Logan opens her story with a gigantic bang: when Josie Giancola goes in to open her new button shop, she's assaulted by two large, ski mask wearing men, who throw her to the ground and sprint away after having ravaged her shop.  As she's left t regard the wreckage, picking up buttons she'd meticulously catalogued , she's sure the men are tied to her ex with a gambling problem.
Some parts of the story were predictable, I'll admit – when she meets up with the rumpled police detective with whom she'd had a disaster of a blind date, there seems to be only direction for that to go – but the rest of the story is buoyant and entertaining.  As Josie gets her shop thrown back together in anticipation of the arrival of a huge Hollywood star looking for antique buttons for her wedding dress, the stage is set for another layer of storytelling.
The Hollywood star arrives with many cowed assistants, followed by the paparazzi, and before she knows it, Josie's shop has attained a certain notoriety, one cemented when said star is found dead in her shop a few days later, and the whole puzzle has a clever tie to buttons.
I give any cozy author kudos when they can draw their amateur sleuth believably into a detection story line using their character's expertise, and Logan does this with real aplomb, using a rare handmade boxwood button as a clue.  The passion of the collector (and this could apply to any type of collector) is perfectly portrayed as Josie loses some of her common sense hunting for the source of the boxwood button, and perhaps a clue to the killer of the actress.
There's just enough detail about buttons and button collecting to give the story some extra snap, but Logan is such a natural storyteller that it's more of a cherry on top of the cupcake.  This is a book you'll zip through with great enjoyment, knowing a little bit more about buttons than when you started.