Guest reviewer Patti O'Brien is a long time friend of both Aunt Agatha's and of mine.  She is a librarian with a passion for reading and especially a passion for mysteries.  Her library in Arizona is very lucky to have her!
Restless in the Grave is another terrific book by Dana Stabenow, who is one of my favorite authors. This book features both of Ms. Stabenow's Alaskan series characters, Kate Shugak and Liam Campbell.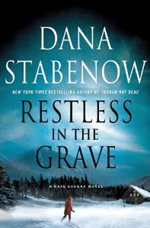 It is State Trooper Liam who indirectly contacts Kate to go undercover to solve the murder of a wealthy aviation businessman, Finn Grant. Grant had alienated almost everyone in his town by buying them out to turn it into a destination for hunters and other explorers of the Alaskan wilderness. Kate goes to work at the main bar in town, and manages to ask a few questions and is working on answers when things start to get a little too interesting for her. The apartment she is renting is searched, and as Kate interrupts that search, she is shoved into deep freezer. She escapes from that, but other situations occur to let her know she is being too nosy. It takes a few more near-misses for Kate to get to the bottom of what is going on and why Finn Grant was killed.
As a fan of Dana Stabenow, it was wonderful for me that she brought Kate Shugak and Liam Campbell together to solve a crime. I consider Kate to be one of the strongest characters in crime fiction; strong of heart and strong physically. She is a hero of mine and I live vicariously through her with every installment of this series.
Another strong character in this series is Kate's dog Mutt. She is part wolf, and all partner to Kate. In Restless in the Grave, Mutt proves time and again that she is an equal partner to Kate in their relationship.
I can't recommend enough that readers start at the beginning of this series, although this is the 19th entry in the series. Learning all about Kate Shugak and her Alaska is wonderful story. That said, Restless in the Grave can stand alone; long time series characters are introduced easily, and the reader should not feel they're missing much by not having read the previous books.