Deborah Crombie's skills as a sophisticated novelist have only increased over time.  What began as a standard, though excellent, police series based in London, has evolved into a series that's richly populated with detailed, complex characters, vivid settings, and themes.  She's neck and neck with authors like P.D. James and Elizabeth George, though she doesn't share their sometimes completely bleak viewpoint.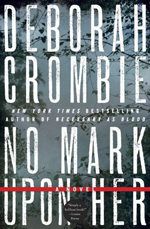 Deborah Crombie also often highlights something interesting about England in each book – in this novel, she's chosen sculling, and the Oxford University rowing culture.  Her victim is a cop who had Olympic aspirations – Becca Meredith – and who has been contemplating a last shot at the Games.  She's last seen out with her boat, and her ex-husband gets worried about her.
Like any truly gifted novelist, Crombie understands that the way to get a reader fully invested in a murder mystery is to make the victim come to life, warts and all.  While Becca is described as intense and overly focused (as might be expected from an Olympic caliber athlete) all of her colleagues describe her as fair minded, and her ex seems to be truly grieving for her.
While this is a wonderful setup, what makes Crombie special is her skill at addressing a theme and weaving it through the story.  This book concerns itself with power and ambition in all it's many forms.  She raises the question – how far is too far?  How focused is too focused – where does it turn to obsession?  Many of the characters have obsessions of one kind or another.  She adds to the scenario by folding in the story of a serial rapist, which also, of course, is about power and control.
Crombie has a very appealing set of regular characters in the now family of Gemma James and Duncan Kincaid, married at the end of the last book, and now the adoptive parents (as well as parents of two other children) of a three year old girl, Charlotte.  Gemma and Duncan, unlike many contemporary mystery detectives, are not full of angst (except for the angst that comes with leading a full and busy life), but are instead balanced and sane and at the same time not dull.  They're the anchors to the story.
None of the parts are separate, but tied seamlessly together, and Crombie truly brings to life the rowing culture, illustrating many of her points though a skillful use of epigraphs at the beginning of each chapter.  As the novel gets towards the end, it's also a page turner.  This author is one I look forward to reading without fail, and one who has never disappointed me yet.  This is another strong entry in a wonderful and vivid series.